Charitable Work
Captain Tom Foundation
During the Pandemic Impamark helped raise £371.88 for the Captain Tom Foundation by donating 25p on every 100ml Hand Sanitiser sold. It was wonderful to be involved in some small way with this immense fundraising phenomenon.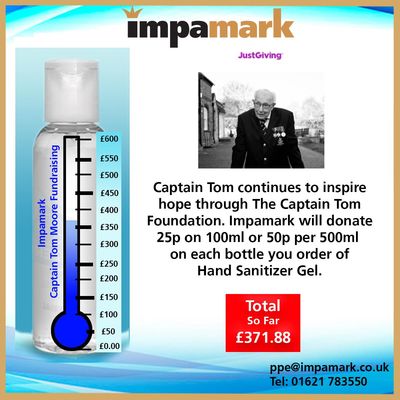 ---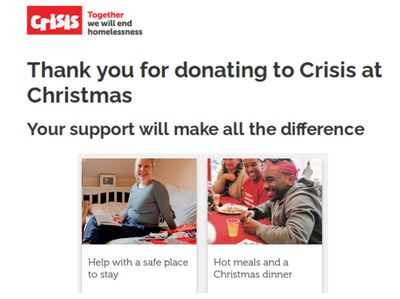 Crisis
Impamark supported Crisis at Christmas in 2021 to help assist people experiencing homelessness by providing education, training and support with housing, employment and health. We were especially pleased that our donation helped with hot food and drinks and a room for the night and offered some small relief from the devastation that homelessness brings.
---
WWF
For several years now Impamark have adopted a turtle to help the World Wildlife Fund with their projects working with local communities to monitor turtle movements and protect their habitat and other vital conservation work across the world. It is estimated that only 1 in 1000 marine hatchlings reach adulthood due to habitat destruction, climate change, fishing and poaching.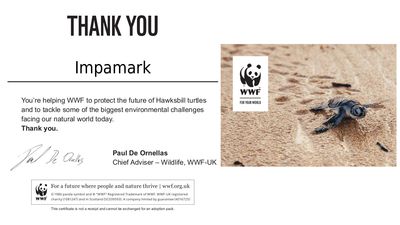 ---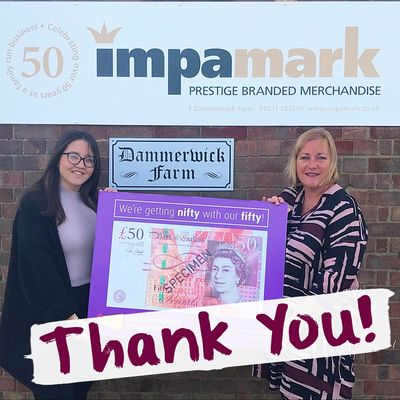 Farleigh Hospice
Impamark partnered with Farleigh Hospice in Summer 2021 with their £50 challenge. They gave us £50 and we invested it by purchasing 10 trees from The National Trust. The trees have been planted by the Trust as part of its pledge to plant 20 million trees by 2030. We then raffled them in July and raised £1100 for Farleigh, which would not have been possible without the help from many of our suppliers which was enormously appreciated. It was wonderful to support both the hospice, and the National Trust, plus being able to give something back to the environment, and offer the winners the opportunity to commemorate someone special by planting a tree.
---
Essex Wildlife Trust
As a company, Impamark is making changes in order to help the environment. Non-recyclable materials build up in landfill and pollute. The Earth, our home, is precious and should be cared for. Our climate is in crisis and our species face extinction.
Impamark are proud to have been corporate members of Essex Wildlife Trust (EWT) for several years. EWT is the county's leading conservation charity committed to protecting wildlife and inspiring a lifelong love of nature. In supporting their efforts, we hope that we can help protect flora and fauna for the future. Conservation is vitally important in maintaining the biodiversity of our planet. Sustainability is key, and it is important for us to provide environmentally green merchandise options where possible.
In order to promote awareness of this issue Impamark launched our Happy Turtle brand. This logo reflects our own efforts in the fight against pollution.Impamark has strengthened our own internal systems to reduce waste and we are actively focused on providing more environmentally friendly products to assist our clients in promoting their own stand against pollution in the environment.